How to choose high-quality outdoor furniture tables and chairs
Compared with other carefully selected indoor furniture, carefully selected outdoor furniture  has completely different attributes from other ordinary products; outdoor furniture (rattan sofas, leisure tables and chairs, etc.) have many hidden details hidden in the rattan package and paint color. Next, if you don't have enough attention and professional guidance when purchasing, I really don't know whether I will enjoy it or regret it when I return home to use it! How to choose good outdoor furniture is really not that simple!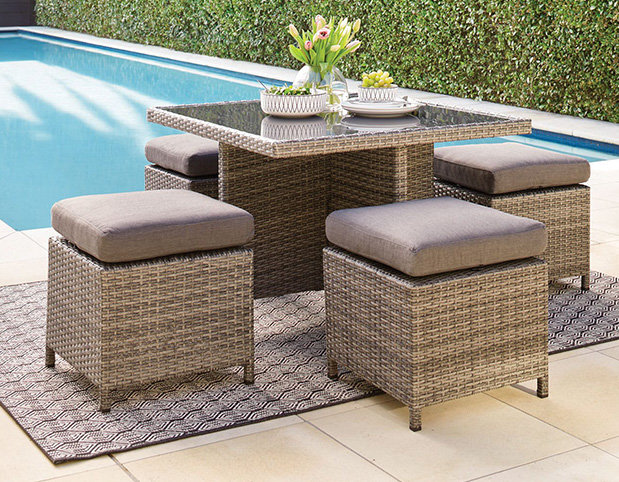 Due to the characteristics of human feelings, when people are approaching a physical form, they will always involuntarily produce feelings of like or dislike, thus affecting consumption and user experience. The shape, color, and texture of outdoor furniture have become the first element of the attractiveness of the product. The appearance characteristics of outdoor furniture is an important aspect of the theme atmosphere creation of the space environment where it is located. The appearance of outdoor furniture must consider the coordination of the space style in which it is located, in order to perfectly reflect and express the overall atmosphere and artistic conception of the space. Outdoor furniture The design, through natural texture, smooth and delicate lines, carefully creates a calm, natural, and leisurely product temperament, hoping to help people relax their nervous mind and body. At the same time, different series of product styles have been developed in response to the aesthetic appeal, body characteristics, and value trends of different regions.
Different usage scenarios require outdoor furniture to have different functions to achieve, convenient, easy to use, and easy to use is the purpose of outdoor furniture product design. For example, chairs should be suitable for stacking and easy to transport, or fold to save space, or leave a hand Holes, casters, and other details are all things we need to consider
The mission of outdoor furniture is to let people enjoy a moment of leisure. The product must be comfortable and ergonomic. The recliner backrest can be adjusted inclination, the height of the armrest contact position, whether it is with a cushion or a pillow, we will carefully consider for users and make the best Program.