A terrace, balcony, courtyard or shared garden is always a small reward for indoor living, no matter how small. However, the challenge is to make it usable, beautiful and practical at the same time. At the very least, you might want to adapt to some multitasking indoor and outdoor garden furniture and space-saving garden storage ideas without even thinking about how to decorate it. Fortunately, we have put forward some fairly simple design ideas for your terrace or balcony.
1. Establish a visual connection with your living room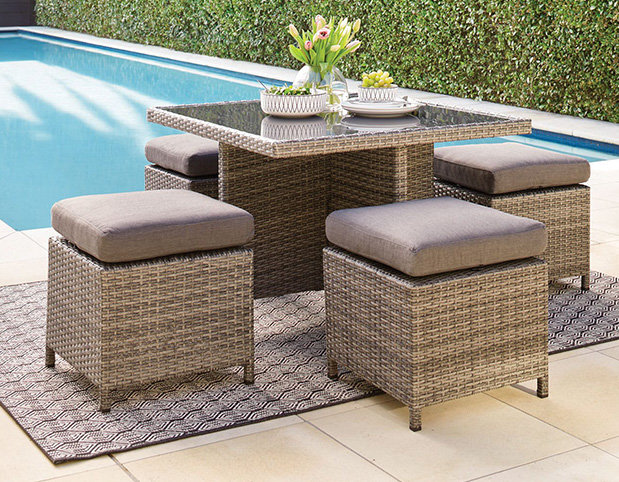 Your balcony or balcony is connected to your living room, bedroom or kitchen, and the matching of shapes, decorations and decorations with indoor colors will make these two spaces feel connected and larger. Growing a lot of plants indoors and outdoors will create the indoor-outdoor blending effect you want.
2. Practical: choose light and foldable furniture
Bulky furniture is not a good choice for balconies and terraces. Balconies and terraces are unique for light, easy-to-move garden furniture. Choose synthetic rattan or light wood as a no-maintenance method, and choose low-level light-colored seats to make the space feel larger and allow maximum light to enter the interior room. If it is foldable for easy storage, so much the better.
3. Can choose stackable furniture
Summer is a good season to entertain guests, but if you want to have outdoor dining and parties in the same place, terrace gardens can become a problem. Choose stackable chairs so that they can be easily cleaned up after the meal, so that the transition from one stage of the party to the next will be smooth.
4. Use hanging flower pots to create rich colors
If your garden terrace or balcony is on the smaller side, you may eventually have to choose suitable garden furniture or plant pots. If you need to save space for tables and chairs, but still want to decorate with plants, choose window sill boxes or hanging flower pots. They will not take up important floor space, but will make outdoor areas more dynamic.
5. Decorate your open-air restaurant with lights
One of the greatest pleasures of summer is dining on the terrace. Decorating your patio dining area with pleasant colored lights will help create a joyous atmosphere.
6. Enliven the atmosphere with colorful carpets
To make your terrace or balcony feel that it is also part of your indoor space, the trick is to use soft furniture to assist it. Here, outdoor carpets introduce bold colors and graphic patterns.
7. Save space, organize it with a storage table
Terraces and balconies will require small space storage solutions that are smart and compact. So choose furniture that can store mats, blankets and barbecue utensils at the same time.
8. Use outdoor sofas to create a comfortable corner
If your balcony or terrace is very narrow, you may want to use most of this small space for a comfortable sofa instead of trying to cram a lot of chairs in, because that might make the space difficult to move. Make sure the sofa you choose is suitable for the outdoors, and the cushions are as attractive as indoor sofas.