Every room in the house holds a prominent place and have a distinctly different purpose. A dining room is an integral part of a house. It is a place where all the members of a family gather together to have a meal. A dining room without a dining table is incomplete. Dining tables do not only bring people together for meals but also in timeless and never ending conversations. It is also a symbol of prosperity and wealth. As a matter of fact, a dining table can tell a lot about the family as different colours, shapes, sizes, reflect the personalities of the people living in the house. Earlier, in Chinese culture, the size of the table was directly proportional to the number of members a person is able to feed. This reflected the wealth of the individual. But now, there is no such thing left. Shapes, sizes and materials all have a significant importance in a dining table.
· Size: Size of the dining table should be apt to accommodate your family members and friends. A lot of rattan dining sets can be extended when needed, make sure you also buy extra chairs with that as well. Buying a perfect dining table is a long term investment, and since you will be using it for a long period, you must choose the size wisely. Also, don't forget to take measurements of the place you want the table to be kept. Make sure, the table is not too big for your room, and leaves no space to move around. A dining table should be placed 50'' away from the wall so that it has ample of space to move chairs and sit comfortably. The size of the dining table also depends on the number of members who intend to use it on a regular basis. There are various options available such as 3 seater, 4 seater, 6 seater and so one. One must choose according to their need.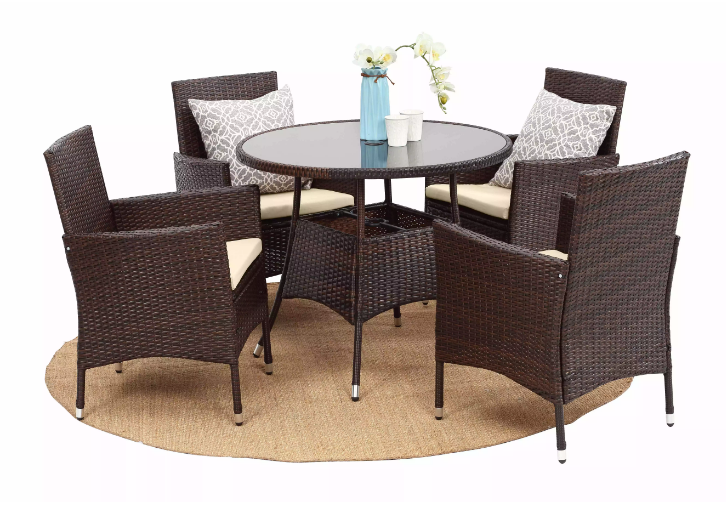 · Shape: Decide on what shape you want for your dining table. Round, Square, Rectangle and Oval are the most common shapes that are available in dining tables. Round and square tables are great for smaller spaces. They fit well in the room and makes a room look bigger. It works great for having conversations as everyone is at the equal distance. Round and square tables have similar features and offer same convenience while having a conversation. Rectangle and oval shaped tables offer plenty of seating, as they are larger in size. Rectangular tables also work well with narrow spaces. They are preferred by people having larger spaces and a big family.
· Materials: Dining tables come in different materials such as solid wood, reclaimed wood, glass, marble, and medium density fibre. Each type has its pros and cons. Most of the dining tables are either constructed with steel, hardwood or aluminium. The material used in the structure of the tables decides how long it will last. Solid wood has a smoother surface with very fewer imperfections, but they also require proper care and maintenance. They need to be prevented from water marks and scratches. Hardwoods give a warm and earthy look to your dining room. Glass and marbles can be heavy and expensive. However micro density fibre is more affordable.
A dining table makes you feel comfortable by providing a warm atmosphere to you and your guests. Apart from being a centre piece, it is also a multi-utility furniture piece. Other than eating food, it can be used to play board games, can be used by children as a study table, and to have private conversations. While buying a dining table, all the above-mentioned considerations must be taken into account. Shape, size and material of the tableFree Articles, all are equally important.