When it comes to furniture, everyone thinks of home sofas, beds, TV cabinets, etc., but not all furniture is used indoors or in houses, and some are used outdoors. For example, the current houses with courtyards, households with very large balconies, single-family villas with good conditions, and some hotel entertainment venues will have outdoor facilities and outdoor furniture in the courtyards and outdoors. Generally, when people are more leisure time To enjoy.
Recliners are a very common type of outdoor leisure furniture and can usually be found in many public places, such as hotels and restaurants. After enjoying the hot springs and other recreational activities in the hotel, you can lie down on a lounger. After the sun goes down, the family can take a break in the bathtub to relieve fatigue from work.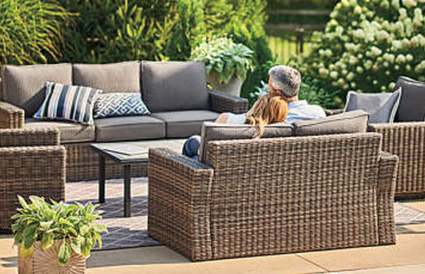 A typical standard lounge chair is 70 cm wide and 120 cm long, but the style and position are different, and the design specifications and dimensions are also different. The recliner is made of wood, alloy steel and rattan. You can choose the model according to the material, so you can buy a recliner that suits your taste.
The sofa is usually suitable for friends with a balcony. In fact, you should put a relaxing sofa on the balcony. You can also lie on the sofa to rest or chat with friends to view outdoor activities. This is a very comfortable life.
Outdoor sofas are made of a variety of materials, some of which are painted aluminum alloy, and some are hand-woven with elegant and fashionable environmentally friendly rattan.
The size and design of the outdoor sofa. Usually a one-person sofa or a two-person sofa. For ordinary 2 people, it is 1300 x 870 x 910 mm, for a single type, it is 710 x 870 x 910 mm. In fact, outdoor sofas on the market have different sizes and specifications, so please choose the size of the area.
Life is art and the pursuit is more interesting. Choose a hanging basket or chair that suits your style, sit on a swing to remember your childhood, or sit quietly and enjoy a rest. If you have a baby at home, you can put your basket and chair on the balcony to play with the baby. The hanging basket has become a good choice for people's leisure and entertainment.
Hanging baskets and chairs are usually made of plant wicker or wrought iron. The market price ranges from 500 to 2000. You can purchase as needed.